Missouri Master Gardener Online Core Training - Fall 2022 is a Course
Missouri Master Gardener Online Core Training - Fall 2022
Started Aug 14, 2022
Sorry! The enrollment period is currently closed. Please check back soon.
Full course description
Missouri Master Gardener Core Manual: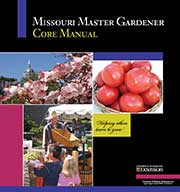 The 
Missouri Master Gardener Core Manual
 is required in order to complete this course. It is included at no additional cost with your registration, however, it must be ordered separately. You will utilize a discount code when placing your order.
After registration is complete, access the course by selecting "Canvas" from the menu in the top-right of this window. Select the course tile from your dashboard then select "Start Here" on the course Home page.
Please place your order at least one week before the course start date.
Course Introduction:
Master Gardener online core training is a semester-long course organized by weekly learning modules.  The course is offered by University of Missouri Extension and does not carry official University course credit. If you have questions about this course, please contact TrinkleinD@missouri.edu. If you need disability-related accommodations, please email  MU Extension ADA Support.
---
Learning Outcomes:
To understand the mission of the Missouri Master Gardener Program and how it functions.
To acquire a working knowledge of the fundamental principles of plant growth and development.
To apply concepts of plant growth and development to everyday situations and uses in horticulture.
To learn basic terminology associated with the art and science of horticulture.
To gain an appreciation of horticulture as a life-long pursuit.
---
Module Topics:
Policy and Procedures
Plants and their Environment
Plant Propagation
Soil Nutrition and Nutrient Management
Vegetable Gardening
Fruit
Establishment and Care of Woody Ornamentals
Pruning Ornamental Trees and Shrubs
Herbaceous Ornamentals
Managing Lawns and Turfgrass
Residential Landscapes
Insects
Plant Diseases 
Pesticides
---
Instructor:
Dr David Trinklein
Sarah Denkler
---
Length:
This is a semester-long course running 15 weeks.
---
Department: 
Plant Health Production
---
Missouri public and surrounding states
---