Missouri Master Gardener Online Core Training - Spring 2022 is a Course
Missouri Master Gardener Online Core Training - Spring 2022
Jan 16, 2022 - May 31, 2022
Sorry! The enrollment period is currently closed. Please check back soon.
Full course description
Missouri Master Gardener Core Manual: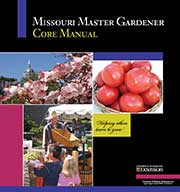 The 
Missouri Master Gardener Core Manual
 is required in order to complete this course. It is included at no additional cost with your registration, however, it must be ordered separately. You will utilize a discount code when placing your order.
After registration is complete, access the course by selecting "Canvas" from the menu in the top-right of this window. Select the course tile from your dashboard then select "Start Here" on the course Home page.
Please place your order at least one week before the course start date.
---
Course Introduction:
This 15-week course is designed to provide students with the horticultural knowledge needed to become a Master Gardener volunteer on behalf of University of Missouri Extension. Master Gardeners provide research-based information to the public on matters pertaining to horticulture and environmental preservation. Additionally, the course will benefit anyone seeking broad-based knowledge related to horticulture and gardening. Aligned with the University of Missouri's semester calendar, students cover one chapter each week of the course.
---
Learning Outcomes:
- To understand the mission of the Missouri Master Gardener Program and how it functions.
- To acquire a working knowledge of the fundamental principles of plant growth and development.
- To apply concepts of plant growth and development to everyday situations and uses in horticulture.
- To learn basic terminology associated with the art and science of horticulture.
- To gain an appreciation of horticulture as a life-long pursuit.
---
Module Topics:
Written at an introductory level, this course provides a foundation in plant structure and function; soils and plant nutrition; plant propagation; fruits; vegetables; herbaceous and woody plants; entomology; pruning; plant pathology; landscape design; lawns; pesticides usage and the policies of the Master Gardener program.
---
Instructors:
Dr. David Trinklein and Sarah Denkler
---
Length:
Fifteen weeks.  It is offered twice each year.
---
Department: 
Division of Plant Sciences, University of Missouri Extension
---
---
---